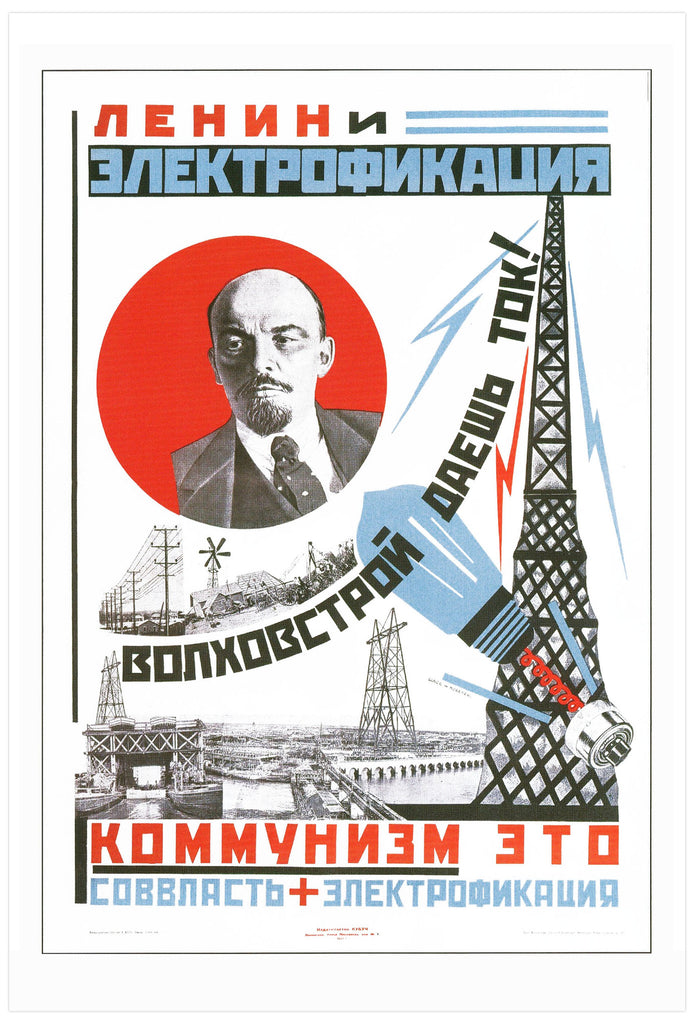 Lenin and Electrification [1925]
Sales Taxes not included in item price
$26.55
'Lenin and Electrification' by Shass-Kobelev [1925].
On this 1925 poster 'Lenin and Electrification' we see the electrified landscape promised by Lenin's map, a mechanized pastoral made possible only by tapping the unharnessed power of the earth: "Construction of the Volkhov hydroelectric dam will give current!"
To the left is the Volkhov dam and to the right an electric tower that sends blue lightning bolts down to a light bulb, which points toward Lenin's image, made celestial by his death the year before. At the bottom of the poster is the formula that Lenin delivered at the launching of the electrification campaign in 1920: Soviet Power + Electrification = Communism.
After his death, Lenin's image becomes a symbol for Soviet power, which links it to revolutionary tradition and makes of it the "electric sun" promised by the electrification campaign. Lenin and his light-bulb (nicknamed "Lenin's lamp" during the electrification campaign) embody the variables in his formula. When added together they promise to produce communism, a state of being that requires the transformation of the natural world into an electrician's utopia, a reworked landscape envisioned by Lenin's map of the future.
Title
Lenin and electrification
Author
Shass-Kobelev


Year
1925

Dimensions
29 x 41 cm
11 1/2 x 16 1/8 in
Paper weight
170 gsm
Printing method
Offset