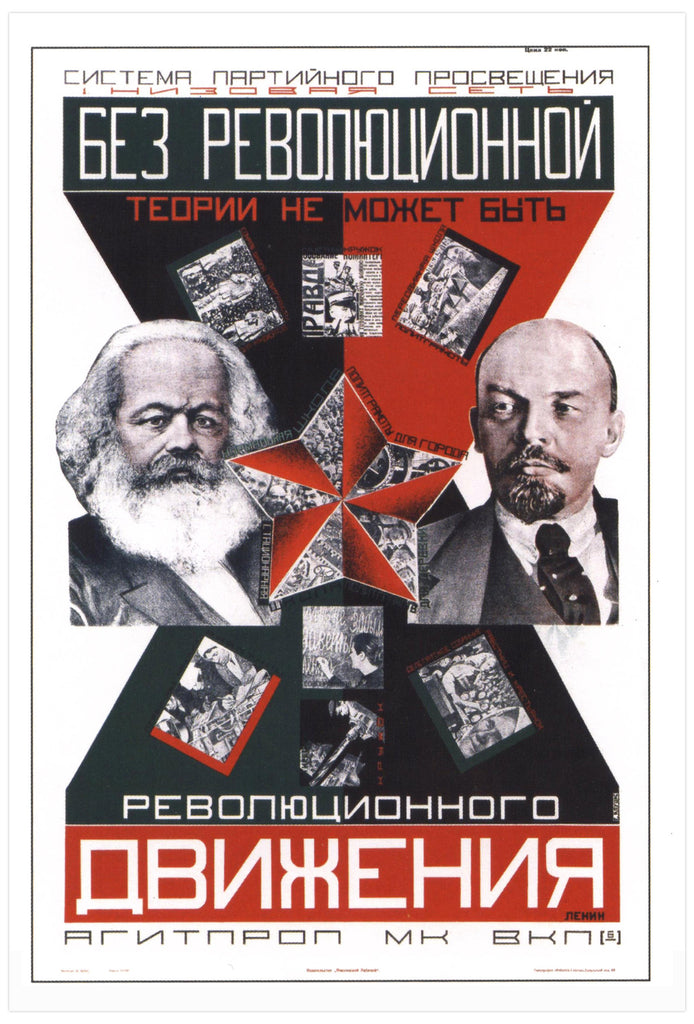 Without revolutionary theory there can be no revolutionary movement [1927]
Sales Taxes not included in item price
$26.55
'Without revolutionary theory there can be no revolutionary movement' by Gustav Klutsis (1895–1938) featuring a quote by Vladimir Lenin.

A central figure of Constructivism and pioneer of photomontage, Gustav Klutsis from Latvia participated in the political and intellectual communities of the early Soviet Union as a photographer, painter, sculptor, graphic artist, designer, and teacher. After a period studying under Kasimir Malevich, Klutsis translated Suprematism's fascination with pure geometry into more architectural constructions of wood and paper. In the 1920s he started using combinations of photographs taken from everyday life, self-portraits, drawings, and cut-outs from publications to create an early form of photomontage.

Klutsis also created utilitarian objects through an ingenious combination of industrial design and assemblage, as in his agitprop stands made from fragments of loudspeakers, platforms, film projectors, and screens. Late in his career he was a key member of the avant-garde collective October alongside El Lissitzky, Alexander Rodchenko, and wife Valentina Kulagina.
Title
Without revolutionary theory there can be no revolutionary movement
Author
Gustav Klutsis (1895–1938)
Year
1927
City
Moscow

Dimensions
29 x 41 cm
11 1/2 x 16 1/8 in
Paper weight
170 gsm
Printing method
Offset