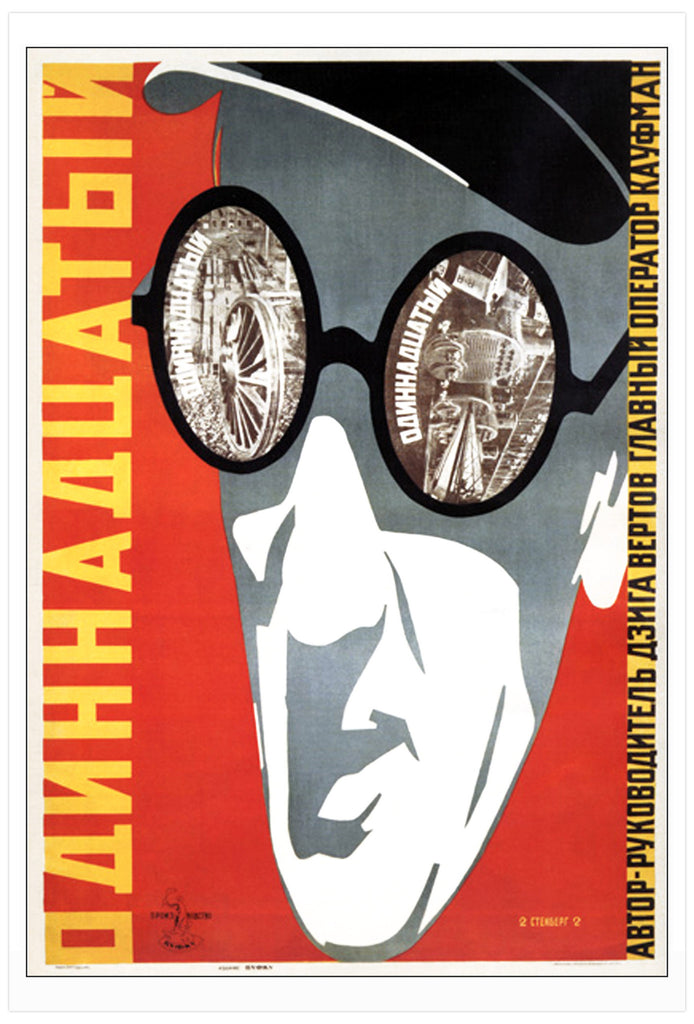 Movie Poster: 'The Eleventh Year' [1928]
Sales Taxes not included in item price
$26.55
Movie Poster: 'The Eleventh Year' [1928] directed by Dziga Vertov
Designers: Vladimir Stenberg, Georgii Stenberg 
This a movie poster, which announces the famous documentary by Dziga Vertov. His actual name was Denis Kaufman, and he was one of the founders and main theorists of news-reel and documentary shooting.

This documentary was released in 1928, and was called 'The Eleventh Year', meaning the eleventh year after the October Revolution. Its main idea was to show the progress the young soviet state had achieved. The man on the poster is an image of Dziga Vertov himself. His eyeglasses reflect the agricultural and industrial machinery. This is an illustration of one of his main theories – that a true documentary is not about mere snap-shooting of life, but instead it is about life, run through the eyes of the observer, whoever he is - or whatever it is. Unlike other documentaries of that time this principle implied the distinctive presence of the protagonist in the movie, although he might not be shown directly or it might not be human at all.

This was a silent black and white documentary. But the cut was done in a way that illustrated the sounds of the machinery and other things shown. This was a staggering technique for the twenties and it did earn Dziga Vertov a wide international acclaim.

This constructivist poster done by Stenberg brothers is a masterpiece itself. The bold type on the left side says the name of the film: 'The Eleventh'. To the right there are the credits: "Author-Director Dziga Vertov Chief Cameraman Kaufman". The Chief Cameraman Kaufman was Dziga Vertov's brother – Mikhail, who was also a noted film maker. There was also another brilliant cinematographer in this family: the third brother Boris, together with parents, moved to Poland after the Revolution. In 1954 he won Oscar and Golden Globe for the first American feature film On the Waterfront, but he never had a chance to meet his brothers after 1917.


Title
Movie Poster: 'The Eleventh Year'
Author
Vladimir Stenberg, Georgii Stenberg
Year
1928

Dimensions
29 x 41 cm
11 1/2 x 16 1/8 in
Paper weight
170 gsm
Printing method
Offset